Hi all
I got a free pre-father days evening brew last Saturday and continued my experimentation with hoppy wheat beers. Sorry all the measurements are in metric
Batch Size (L): 22.50
Total Grain (kg): 4.95
Anticipated OG: 1.046
Anticipated SRM: 6.3
Anticipated IBU: 32.8
Grain/Extract/Sugar
% Amount Name
55.6 2.75 kg. Wheat Malt
40.4 2.00 kg. Pale Malt(2-row)
4.0 0.20 kg. Crystal 55L
Hops
Amount Name Boil Time
12.00 g. Columbus 60 min.
30 minute hop steep
20.00 g. Summit
20.00 g. Citra
15.00 g. Amarillo Gold
Yeast
Sierra Nevada kellerweis
Here is a rough guide on how I cultured up the yeast
20g of spray malt boiled in 200ml water, the dregs of two bottles of kellerweis
Where added when cooled. These where chilled so as to sediment as much yeast as possible.

Yeast added and let get to work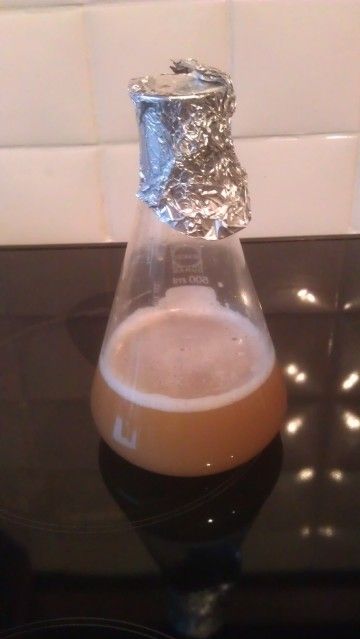 It took around 3-4 days to see activity but it took off. This was then pitched into a step up starter (1 litre) that will be split in two, one for storage and another to produce a starter to brew with.

Starter for the week going well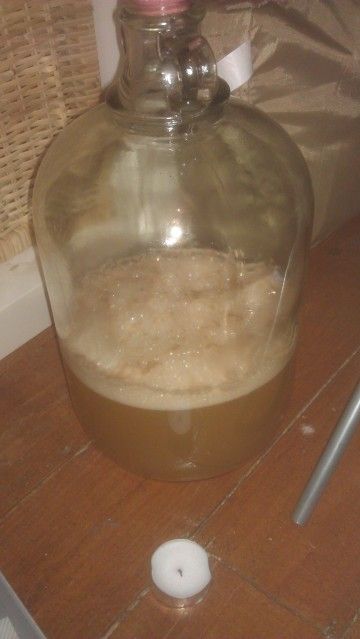 Pitched and fermenting well, this actual keep going and over spilled like an number of hefe yeasts I have used before.