Good to see you are back. It sounds like you got a song ready to write!
I too am glad you're back - you really are a great resource on this forum!
[quote="Boulderbrewer"]It sounds like you got a song ready to write! :lol: Ain't that for sure!!
Phew! That sounds like a rough year, man…wowzas…
Legman, glad to see your are making a come back, just take it easy don't rush things. When I made my move to Southern Illinois and started brewing again after my cancer there were a couple of things I tried to rush and it didn't work, a minor set back, so take it easy.
It looks like your old home town football teams state record of 27 stright years in the play offs ended. Murphysboro ended their hope beating Du Quoin last week. I'm going to brew a Brow Ale this weekend.
Take it easy and good luck.
jazzman
Glad to hear that it wasn't a health issue! I was going to ask about you a few weeks back, but feared the worst. Hopefully the new gal likes homebrew…and you gained some apprentices with the deal.
Welcome back.
Good to see you back here. I always say, If you're able to brew your own beer, your life must be pretty good… There are so many things that can get in the way of it and it ends up being a low priority. I completely understand how that can happen but glad to see you're on the other side of it. Cheers.
I was thinking the mites might have carried you away, glad to see thats not the case.
:cheers:
[quote="Legman"]Hey thanks guys! It is good to be back again! I missed y'all!
It's been an exciting year to say the least…new job, divorce, escaped financial ruin, survived multiple death threats, got my house, truck and possessions back (brewing equipment still intact :shock:
Lots of big changes!
I've still got some things to do, but so far everything seems to be falling into place.
I'm ready for things to settle down again. Hopefully in a couple of weeks I'll be brewing again![/quote]
I thougt I was having a time of it , getting layed off and going back to school after 30 years, but I will concede that you have out done me. I'm glad to see you back bud.
i havn't brewed any since june but I have a brew session lined up with my son who is 24 and this will be his first batch. (starting him on all-grain)
I guess we need not ask about the hops garden. I'm sure you didn't get much chance to tend it.
mine was a loss cause .i ended up just cutting it down and tossing the works. beetles and bad weather just did it in.
only Three kids huh… well I guess you are still young and have time for a couple more.
Glad to see you back.
[quote="pashusa"]only Three kids huh… well I guess you are still young and have time for a couple more.[/quote]Bite your tongue!!!
I'm happy to have those in my life, but no more in my future for sure.
And yeah, hops were a bust this year. I wasn't around to take care of them and I ended up just cutting them down in the middle of summer just to keep them from getting out of control while I was gone. Oh well, next year.
I finally got to brew yesterday…man that felt great!!! :mrgreen:
Brewed up 11 gallons of Pale ale, then steeped some crystal 60 and chocolate malt, then added it to one of the fermenters to make it a Brown ale. I cant' wait to taste them!
My brain was a little foggy when it came to the water chemistry, but I managed to fumble through it…thanks to my new brewing assistant. He works for gummie worms.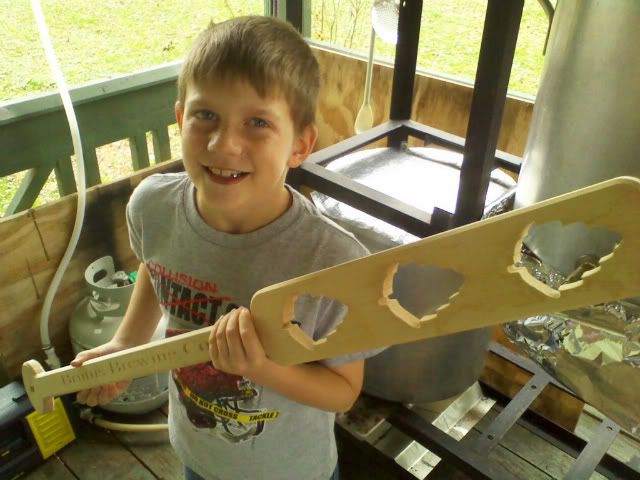 glad to see you back man…
And if those aren't enough motivation, you can always threaten him with that paddle!
Yeah the holes make it travel faster! Our vice-principal in high school used to use a shoe sole wih holes drilled in it for that very reason. Not that I ever got punished myself, I head it from my deadbeat friends you know.
I guess that shows my age, I don't think they beat kids into submission these days.
Looks like you guys had some fun.
Good for you.
gummie worms???
He knows the good stuff.
[quote="Shadetree"]…you can always threaten him with that paddle! :mrgreen: