Hey Everyone, I am looking for advice/suggestions on my keg setup. I am getting married at the family farm on September 1st of this year, so basically we are doing everything ourselves including suppling beer. The goal will be to dispense two home brew kegs and two commercial kegs at one time. The third home brew keg will be for if either of the first two blows. I plan on running two gas lines out of my keezer to feed the commercial kegs which will be sitting in a big ice bucket. Here is my list of kegging equipment:
3 x Ball Lock Corny Kegs (10 gallons of Patersbier, 5 gallons of Petite Sasion)
2 x five-pound CO2 tanks, one fully pressured, one has dispensed approx. 6 five gallon kegs.
1 x Double gauge regulator
1x Three way distributor
2 x (Shanks + Perlick taps)
1 x Five cubic foot keezer; fits two kegs and both CO2 tanks + digital temp controller
2 x Commercial Sanke connections
2 x picnic taps
Misc amount of gas lines and 5/16ths beverage line
http://i241.photobucket.com/albums/ff11 ... gSetup.jpg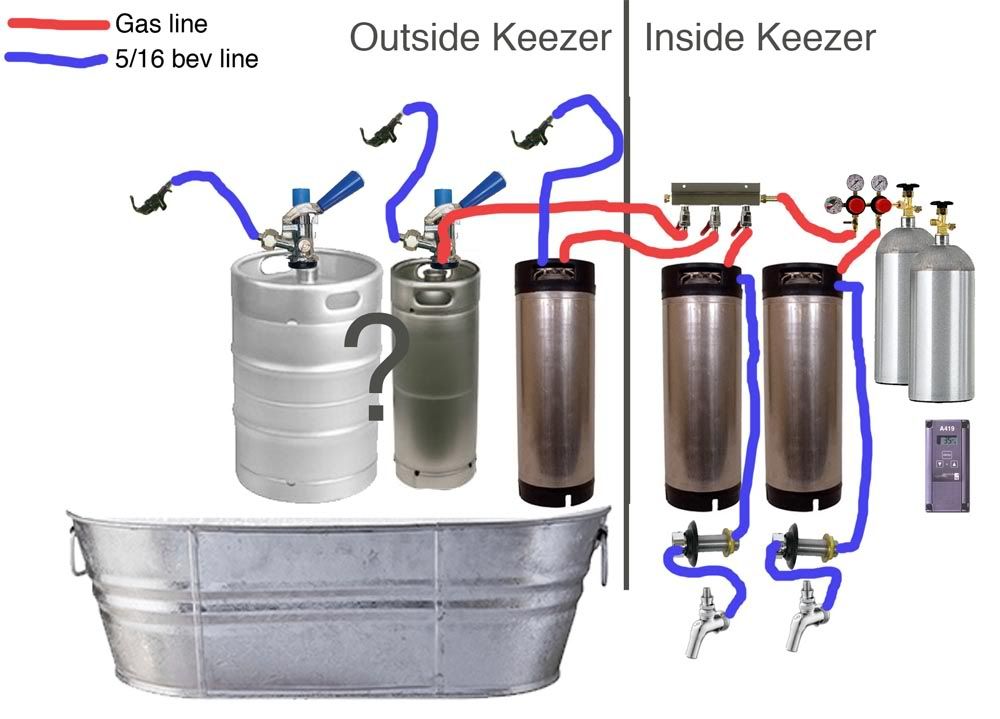 I haven't figured out how much commercial beer to purchase and then what to buy. I'm thinking some Bell's Oberon and then something more macro focused, Schell's Pilsner.
MY QUESTIONS:
What extra washers, misc parts, tools should I have on hand in the event of something getting wrecked?
How much CO2 should I have on hand (I know this is a "how much do you plan on dispensing question but we'll get to that)
How long should the beverage line be? (I've heard you need a minimum amount of hosing from keg to tap to prevent foaming, what is the min distance?)
I was told all commercial kegs (both craft and macro, and all sizes) come carbonated, all I need to do is set my regulator to 10lbs and dispense, that sound right?
What else should I consider?