myself: cucumber lager at Lost Abbey, freshly tapped. weird but delightfully refreshing!
I still remember the first really good beer I ever had. Before that was all BMC for me.
It was early 1980's at a Scottish bar in Chicago, and it was called
Old Edinburgh Ale. I had never tasted anything as good, and it was many years before I ever did again.
Never could find that ale again.
In 1974 my grandfather retired and him and my grandmother bought a 80 acre farm in the central part of Missouri. He had worked for the contractor that built the A.B. brewery's in that period. He was a millwright supervisor for that contractor. He started brewing beer right after he retired. I remember the first visit after he started brewing, he showed me his finished beer and I thought it looked pretty rough. He poured me a glass and the beer was wonderful. It was one of the best beers I had ever had at the time. I will never forget his homebrew.
Cheers,
Jazzman
This might be weird, but the most memorable beer I've ever had was my first beer. I was like five years old and my grandpa gave me a sip of his Schlitz. Will never forget it. Kind of one of those moments. i haven't tasted a schlitz since… Maybe i should go buy a sixpack.
I was 11, sitting in a bar in Milwaukee Wisconsin, nursing a Shirley Temple while my Dad drank a Guiness. He gave me a sip and my horizons immediately expanded!
You remember that TV show Taxi? And Reverend Jim? They did an episode once where they told the tale of how reverend jim came to be. He was a straight A, letter sweater wearing Harvard student when his roommate's hippie girlfriend gave him a pot brownie. With one bite, he instantly became reverend Jim. "Uhhhhhhh…"
It was kinda like that. Kinda.
The year 1977, I was 15, I was spendng summer vacation in northern Minnesota at my Grandparents place. I had spent the whole day in the woods helping to clear some standing lumber. We were building up the firewood reserves for the winter. These were great big straight pines as tall as a 5 story building. I would watch as the old guys fell the big lumber and then once it hit the ground I would use a double edged axe and clean the branches off the sides leaving a staight pole for the guys to part to be split. My Grandpa, my Uncle, and a couple of the neighbors had all helped. When we were done we had a huge dinner for everyone and their wives. We all gathered out in the yard afterwards for some fresh air in the lawn chairs. Grandma came around with a big glass of Shells Stag beer for all the "men". When she came to me, Grandpa said "Give the boy a glass. If he can clear lumber along with the men, he sure as hell can drink a beer with them too." It was cold and it was bitter with strong hops and it was the best tasting thing I had ever drank.
Ahh, Schells Stag. I had one of those for the first time last year. It has that typical "beer" taste that I remember from stealing a sip as a kid.
to borrow a quote from Denny, my most memorable beer was the next one I'm making 8)
top 5 in no particular order:
-my first Guinness when I got to a pub @ 11am the day of arrival for a 6-month semester in London
-A sip of Budweiser my brother gave me when I was 6
-My first Pliny at The Cheeky Monk in Denver during GABF
-Helles @ the hofbrau house
-My first homebrew, after it fully carbonated: Brewer's Best Imperial Blonde (sorry host)
-A frigid Miller Lite I had in college upon arrival after driving 7 hours through a Noreaster when the drive should have taken 2 1/2…okay so that was 6, sue me.
I have so many beer related memories, it's like asking me to pick my favorite song. I could easily name the beer that got me into the "better beer" category, but that would be too obvious.
So I would have to say: my first pint of Guinness in Dublin. Not the most earth shattering beer I've had, but Dublin is my Mecca and Guinness is very different there. Fuller flavor all-around. I've been to Dublin three times in the last 5-6 years and have probably been to 20 different pubs. It's spoiled me on drinking Guinness anywhere else. Simply not as good. Even my friends in UK tell me the Guinness there is crap compared to Dublin.
By the way, Guinness was the "first beer" that got me into craft/import beers.
I have a lot…
I recall many sips of Old Milwaukee around 6 years old from Uncles up at the family cabin… I know it's not great, but I still love the taste of OM.
A half-poured out Guiness right after learning of a good friend's accident.
My first Summit EPA at McGovern's right before an afternoon Wild game…really the beer that made me realize there was more choices in-between light domestics or Guiness.
My last beer of college… A guiness drank very slowly at 10 am with 4 of my best friends on the roof of our old Fraternity house before we all moved on.
A Shinerbock drank on the balcony of my rental when I first moved to Texas realizing I was pretty much alone and the Summit EPA drank at a Christmas party with all my friends the day I moved back to Minnesota.
A growler of Pale Ale from a local brewery drank in front of a bonfire alone at the lake when I realizing I just didn't need that ------- girl.
My first homebrew…NB's Shining Star Pale Ale. While under-carbed, it was phenomenal to taste beer that I made.
I could name a couple hundred more… A lot of my best & worst memories are tied to beer, wouldn't have it any other way.
its almost two in the morning here and cant sleep so here it goes
I have a few
-first sips of a beer growing up MGD by the way, my dad planted the seeds of better beer but never drank anything but MGD most of the time, always talked about how much he liked sam adams and stuff and how one day we would make beer together when mom said i was old enough
first time trying dark beers in the dorm with a buddy, guiness, samuel smiths oatmeal stout, and chocoalte stout
-first time trying new glarus at a hole in the wall bar/motel with my brother up to that point he thought i was crazy for spending few extra bucks on craft beer,i ordered pitcher of spotted cow he took one sip and was instantly a craft beer fan
first homebrew of course, I have made some stuff that has been amazing, mainly stouts. the occasional porter, and i put out a pretty awesome kolsch
-when i drank sweet stout next to dry irishstout (guiness clone) and realized guiness was not that great of a stout
me and my brother going to Bluegrass brewing company and getting a little toasty, hope this happens more in the future.
-going fishing with my wife and having a few while we sat on the bank and talked
"sampling" beers with the wife and letting her try them to see if she would like them, she hated beer when we met, that has changed
well sorry for such a long list but i could go on forever, these are the most prominent memories,
A few years ago I brewed a schwarzbier. I forgot one bottle in the back of the fridge. I found it a year or so later. It was pure ambrosia on my tongue. Best beer I've ever tasted. (and that's a lot of beer). :cheers:
[quote="Trapae"]This might be weird, but the most memorable beer I've ever had was my first beer. I was like five years old and my grandpa gave me a sip of his Schlitz. Will never forget it. Kind of one of those moments. i haven't tasted a schlitz since… Maybe i should go buy a sixpack.[/quote]Same here … and it just so happens that my picture of the event is currently on one of my labels (1962), see below.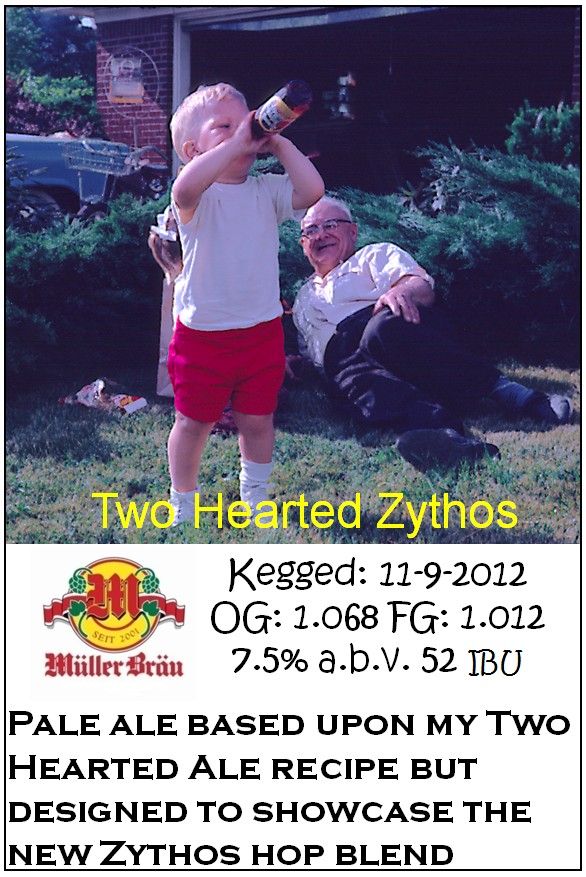 Having a King Lugwid Hell with my wife after strolling around Neuschwanstein Castle on a misty, foggy day.
40oz Seventh Heaven malt liquor. Don't remember what it tasted like. Thankfully I blocked it from memory, but I sure did get drunk. Think I was about 14yrs old.
A glass of Harpoon IPA straight from the bright tank, precarbed. Just fantastic! Really when I started thinking about getting into brewing.
Lagunitas IPA on tap. The beer that started my love affair with IPA's. Still my favorite to this day.
My own interpretation of Flying Dog's Raging Bitch Belgian IPA. Absolutely nailed the recipe of the first try. It's not a clone, but my version. It's the first home brew recipe that would not make a single change too.
This is going to sound weird.
2 Cans of Goebel that me and 2 buddies bought for $1.99 after an afternoon of golfing in 90* heat and probably like 90% humidity, that beer was ice cold and even after all the beers that I have had in the last 25 years I still remember it.
I also remember my first Lagunitas IPA, Vegas 105* draft of course.
A couple that stand out:
A pint of Timothy Taylor Landlord in the Barrels Pub in Berwick-upon-Tweed, England. As we were walking into the pub, a man coming out told us "You've made the right decision!"
A Bert Grant's Perfect Porter bought at the Greenwood Market during my apartment hunting trip to Seattle. I was moving there from Utah and was awe-struck at the beer available in a grocery store. And that was 1997.
I have had so many good memories with good friends and good beer, but this one was probably the best beer.
I was in London for a day on a layover in 1992. I went to the Hard Rock cafe and couldn't afford anything but the soup. I walked across Piccadilly Circus to Burger King to get a Whopper. After I finished my sandwich, I was ready for a beer. I walked toward Soho and eventually went down a side street to a very small, hole in the wall pub. I asked the publican for a bitter, and he gave me a glass of ale. That beer tasted like river water (minerals) and hops. It was fantastic and very refreshing after walking around all day. I had a nice chat with a local drinking Guinness and went on to some other pubs, but that beer was the best. The only sad thing was, I have no idea what that beer was.
Back when I first started homebrewing there were very few homebrewers in my area. So the very first homebrew that I had ever tried was one that I had brewed. I was already well versed in wine/mead/cider and had plenty of experience with fermentation, but it was my first attempt at beer.I'll never forget that Weizenbock.
My first beer with friends (not first beer ever) - in High School. Great party. I still like Old Milwaukee, too.

First couple bottles of Bell's Two Hearted Ale. I was hitting a motel by myself in a small town, on the way back home for a surprise visit about two week's after my Mom's first chemo treatment. Couple of beers, lots of family memories coming up, anxiety about the whole trip in general. Got up the next morning and finished the drive, and had a great visit (and she's now fully recovered). It was obviously a very emotional weekend, but that Two Hearted Ale at the motel is part of what I think of, when I think of that weekend.