Check out my fermentation time lapse video…
That's cool, my fermenting vids would suck cause I'm a bucket kind of guy.
Pretty cool watching that yeast cake go wild like that. Never knew it moved that much.
Great to watch since I'm a bucket man!
That was a pretty interesting video. How did you take all those pictures? Some kind of timing setting on you camera? I hope you didn't actually snap a pic yourself every three minutes because that sounds like an awful lot of work.
I wish I would have done that for my fermenter right now. I have a IIPA that is going crazy! There was plenty of head space and it just started foaming up and out of the blowoff tube this morning even though I tried to control the temp and keep it down near 62*.
Never ceases to amaze me what an active and living thing beer is when you watch the yeast do their thing like this. Nice video!
Nice job! I've been meaning to do this again. My first attempt was during summer so I was using a swamp cooler so could only get a top down view. I like the use of the clock… I'm definately going to do that next time
Here was my test run.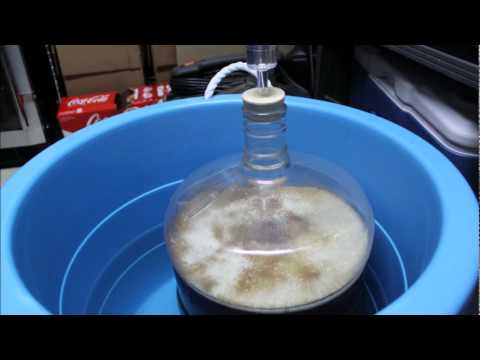 Hey guys, so I'm not so savvy as to be able to do time lapse and such (I'm totally impressed!) but I thought I'd share a picture of my experiment with open fermentation in the fall. Talk about a living thing! Looks wild but I'm also attaching a picture of the finished product. A great beer. The head on that first pour (pictured) wasn't so impressive. It's gotten better with time…
Would love to see more fermentation pics. This stuff is wild…
Wow thats impressive that it stays that way even when turned sideways…oh wait never mind.
Love the pic of the open fermentation.
Told you it was a great beer…it even defies gravity!
Awesome! Love fermentation vids. Would be really cool to see a sour time lapse over a year or two haha
I'm sure he didn't personally snap the shots haha. My wife and I are photographers, and our D700s have and a feature where you can set the amount of pictures and time interval between shots. Later on you can compile them into time lapse videos! Very cool!
Thank you for the video. I was thinking about doing the same thing recently. Now I don't have to!
What kind of beer did you do the open fermentation for? How did it turn out?
I'm curious about the process after watching the Brewing TV episode about it
I went with a german weiss. Very simple extract recipe, though I did a full boil. And like you, this was inspired completely by the BTV episode. I also make it to Bavaria every few years and have seen the open fermentation vessels they use for many of their ales, in particular the weiss. And since you can't get good german-style weiss beers over here that haven't been double pastuerized, I decided this would give me the most authentic taste.
I kept a watchful eye over the first several days and was amazed. The beer turned out fantastic. I unfortunately only have two left!
Also, search the forum for "open fermentation". Lots of seasoned pros out there who have had success.