LOL
@squeegeethree
Another bottling trick to avoid oxidation is to "Cap on Foam"
The idea being that if you fill up the headspace of the bottle with beer foam, which will be mostly co2 from the fermenter, that will displace air that potentially has oxygen in it. The foam could be Star San foam as well which probably won't be mostly co2. In the following video you can see Cap on Foam with cans as well. You hear them talking about D.O. or dissolved oxygen.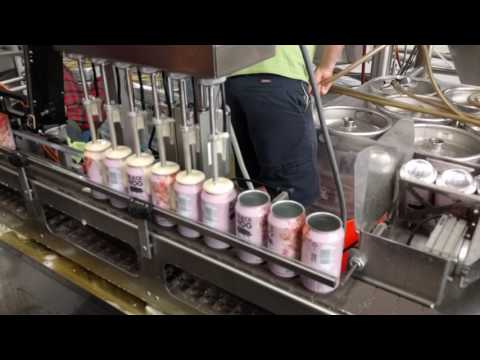 And some additional info for bottling and reducing oxidation although I never would have shaken a bottle to mix in sugar

OXIDATION TEST - Bottling Home Brew Beer! - YouTube
That is a great video such good evidence, but who would shake their beer??!!
I really like that PET bottle squeeze though. I learned with Mr Beer PET bottles and nobody mentioned that trick at the time.
That shaking vid is crazy! You can clearly see the diff btwn the two. Capping on foam seems like the safest easiest way to prevent oxidation if you have PET bottles. I may pick some up just to try it out. I noticed some small flavor and carbonation inconsistencies when I bottled my 2nd batch, a Porter. I realized about 1/4 of the way through I didn't give a gentle stir after I combined it with the priming sugar. Then I didn't separate after I realized my mistake. A real Russian roulette to drink.
I use the syphoning/ spigot process to do most of the stirring, angling the hose to get a whirlpool effect. Then I do a gentling counter stir at the end with my bottling wand.
Ok cool that's a good idea I like it. I haven't siphoned to transfer or bottle yet, but the guy at the homebrew shop suggested I give it a shot as it's much faster and less messy. So you siphon onto the priming syrup and get a whirlpool happening, then attach bottling wand, stir, and bottle? Is that right? I was also thinking about the dry hopping process again. I plan to sanitize some cheesecloth and make a secure but loose bag to add my hops. I figured this would make it easier to siphon and wouldn't clog it, hopefully. I'm glad I have an APA to try out the siphon first.
Any one try the yeast slurry, kinda like SN and Duvel?
Sneezles61
I used to dry hop that way. Now I just free range my hops. I upgraded to the fatter bottling wand and if any hops get in it it doesn't clog as readily.
You mean eat the yeast slurry?
What's the yeast slurry technique?
We harvest the yeast from the slurry often so that we can continue using it next time without having to purchase again
Seems that the couple breweries mentioned use fresh yeast and inoculate the bottles with it… A secondary ferment in the bottle… Somewhere, either on the bottle or their web page its told, not explained tho… Doesn't John Palmer explain that in his "How to brew" book…? I'll go look in the AM…

Sneezles61
I don't think that's much of a help except with big beers and exhausted yeast. I've tried that with champaign yeast twice and it didn't work. IMO the yeast that did the job in the first place is best suited for the bottle conditioning as well.
Just dry hopped today, fellas. Wish me luck! Bottling on Sunday night or Monday afternoon
… The master of this forum knows best… and don't you fer git it!
Sneezles61
OMG I've never seen that before! That's hilarious
That's too damn funny! Post hog!
J/K Post on brother, share the insights!